|| 石原 理 ||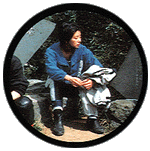 ISHIHARA Satoru
This is the blurb in most of Ishihara-sensei's tankoubon that I own:
Born on November 9th.
Resides in hometown of metropolitan Tokyo.
Debut work was "38 Dosen" in the b-Boy 3rd collection.
Drawing manga serves two functions: Ishihara can indulge in hobbies from electric machines to racing teams, as well as the practical purpose [a salary, I suppose].
Incomplete Bibliography
This only covers tankoubon (manga books) and some of the drama CDs Ishihara has illustrated. With the title, publisher & ISBN you should be able to order any of the tankouban. I took one look at the lists of short manga printed in zasshi (magazines), and doujinshi and gave up. Ishihara also illustrated many, many BL novels. Information on the drama CDs can be found at KEM's site.
Tankoubon
Title: 「38度線」・38 Dosen ・The 38th Parallel
Publisher: Biblos
ISBN: 4-88271-694-1
Title: 「あふれそうなプール」・Afuresou na Pool ・As the Pool Floods With Water (1~6) *Page*
Publisher: Biblos
ISBN: 4-88271-655-0, 4-88271-631-3, 4-88271-840-5, 4-88271-722-0, 4-8352-1086-7, 4-8352-1181-2
Title: 「DUMPS」
Publisher: Biblos
ISBN: 4-88271-241-5
Title: 「解体」・Kaitai ・Dismantling
Publisher: Biblos
ISBN: 4-88271-230-X
Title: 「カリスマ」・Charisma (1~4) *Page*
Publisher: Biblos
ISBN: 4-8352-1160-X, 4-8352-1161-8, 4-8352-1162-6, 4-8352-1163-4
Title: 「カプセル・ヨードチンキ」・Capsule, Tincture of Iodine (X, 1)
Publisher: Biblos
ISBN: 4-88271-776-X, 4-8352-1004-2
Title: 「電子少年」・Denshi Shounen (Digital Ghost) ・Electronic Boys
Publisher: 新書館・Shinshokan
ISBN: 4-403-61560-0
Title: Heavy-Duty
Publisher: Biblos
ISBN: Not yet begun
Title: 「マサツグ君の生理的事情」・Masatsugu-kun no Seiriteki Jijou ・Mr. Matsatsugo's Physiological Situation
Publisher: 太田出版・Taida Shuppan
Date: 07/93
ISBN: 4-7737-0271-0
Title: 「セルナンバー8」・Cell Number 8
Publisher: Biblos
Date: 05/00
ISBN: 4-8352-1041-7
Title: 「少年は明日を殺す」・Shounen wa Asu o Kurosu ・The Boys Kill Tomorrow (1~2) *Page*
Publisher: 大洋図書・Taiyo Tosho
ISBN: 4-88672-585-6, 4-8130-0030-4
Title: 「東京ブギィウギィA・B」・Tokyo Boogie-Woogie *Page*
Publisher: Biblos
Date: 02/99
ISBN: 4-88271-937-1 & 4-88271--938-X
Title: 「わたしの隠れ家へどうぞ」 ・Watashi no Kakurega e Douzo ・Welcome to my Hideout / Venez Chez Moi
Publisher: Biblos
Date: 02/04
ISBN: 4-8352-1548-6
Title: 「やろうぜ!」・Yarou ze! ・Let's Do It! (1~2) *Page*
Publisher: 角川書店・Kadokawa Shoten
ISBN: 4-04-853187-5
Drama CD Illustrations
Title: 「あふれそうなプール」・Afuresou na Pool ・As the Pool Floods With Water (1~2)
Record Label: Intercommunications
ISBN: INCD-204, INCD-206
Creator: Ishihara Satoru
Title: 「カプセル・ヨードチンキ」・Capsule, Tincture of Iodine
Record Label: Tokyo Kaizou Keikaku
ISBN: INCD-404
Creator: Ishihara Satoru
Title: 「カリスマ」・Charisma
Record Label: Movic
ISBN: M-024
Creator: Ishihara Satoru
Title: 「はめてやるっ!」・Hamete Yaru! ・I'll Set You Up Right
Creator: Gou Shiira
Record Label: Intercommunications
ISBN: INCD-319
Title: Bokusaa wa Inu ni Naru ・The Boxer Becomes a Dog
Creator: Gou Shiira
Record Label: Liner Notes Music
ISBN: COCX-30520
Title: Dokutaa wa Inu wo Kau ・The Doctor Buys a Dog
Creator: Gou Shiira
Record Label: Liner Notes Music
ISBN: CoCX-30805
Title: 「ライバルも犬を抱く」・Rival mo Inu o Daku ・The Rival Also Hugged the Dog
Creator: Gou Shiira
Record Label: Intercommunications
ISBN: INCD-310
Title: Akutaa wa Inu wo Enjiru ・The Actor Played the Part of the Dog
Creator: Gou Shiira
Record Label: Gojirandou Honpu
ISBN: --